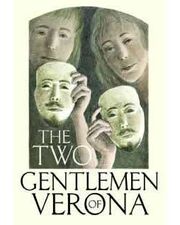 == Shakespeare's First Play==
The Two Gentlemen of Verona is believed to be Shakespeare's first play.
The play is a comedy written in 1590 or 1591. The main themes of the play are friendship, infidelity, and foolishness. The play often focuses on the foolishness of the people in love.
As the name of the play spoils, Verona is dealing with two gentlemen at a time in the play. The unique thing about the play is that Shakespeare has a heroine dress like a boy in the play -which is an uncommon fact in theaters-.
During the play, Valentine and Proteus speak in blank verse where Launce and Speed speak in prose.
Speeches in the play actually serve to illustrate the properties of characters who speak the lines. For example haughtiness of Valentine and Proteus' exalted outlook, and the practical outlook of the servants are presented this way.
Adaptations
Edit
Benjamin Victor rewrote the play some time prior to 1762. He switched the focus of the play away from the love-friendship theme and instead focused on the issues of fidelity, with the last line of the play altered to, "Lovers must be faithful to be bless'd."
Frederic Reynolds staged an operatic version in 1821 at Covent Garden as part of his series of adaptations of the works of Shakespeare.
Galt MacDermot adapted the show into a rock musical under the same name in 1971.
Stuart Draper adapted the play into a "gay" version from April 20 to May 18, 2004 in New York City.

The only cinematic adaptation of the play is a silent film from China directed in 1931 by Bu Wancang.
Performance
Edit
Even though there is no record of a performance down to the closing of the theatres in 1642, the play has to be performed somehow.