Shakespeare's A Midsummer Night's Dream was performed by Inanc students on spring of 2007. This was a production of the English drama club (a.k.a. Club 81), which was supervised by Nancy Aitcheson and Patrick Bredehoft, who were new to the school back then. From freshmen to seniors, the cast was extremely diverse and a lot of fun as well. The production received great attention from the school community and was loved by everyone.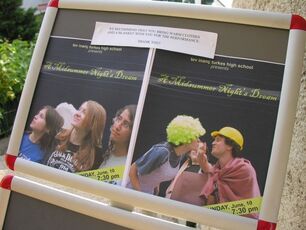 General Plot
Edit
Write something...
Write something...
Write something...
What We Did Differently...
Edit
Write something else...
Write something else...
Write something else...
Write something else...
Write something else...
Our exuberant and awesomely super cast was chosen very carefully.
The Supernatural Characters (Fairies)
Edit
Oberon (King of Fairies): Xelef Botan
Titania (Queen of Fairies): Ozden Onturk
Puck
(
Robin Goodfellow, Servant to Oberon
): Melih Cokaygil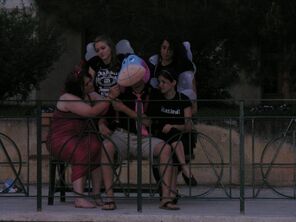 Titania's fairy servants:
Peaseblossom: Ecem Naz Boyacioglu
Cobweb: Ece Kocak
Mustardseed: Bike Oner
The Athenians
Edit
Theseus (Duke of Athens): Dogan Dalay
Hippolyta (Queen to the Amazons and brothed of Theseus): Aysu Damar
Egeus: Doruk Erduran
Lysander (Beloved of Hermia): Emir Ildiz
Hermia (Beloved of Lysander): Elifsah Arli
Demetrius (In love with Helena): Ali Dusunen
Helena (in love with Demetrius): Ece Ozalp
The Mechanicals
Edit
Peter Quince (Carpenter who leads the group): Nur Banu Ozkut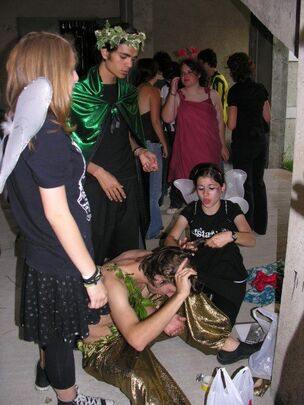 Nick Bottom (weaver, he plays Pyramus in the play "Pyramus and Thisbee" and gets a donkey head put on by Puck. Titania magically falls in love with him): Serhat Tan
Francis Flute (the bellows-mender who plays Thisbe): Alper Dikmen
Robin Starveling (the tailor who plays Moonshine): Yasemin Ozdemir
Tom Snout (the tinker who also plays the Wall): Irem Serbestsoy
Snug (the joiner who also plays the Lion): Elvan Cavac
Advisers, Directors and All...
Edit
Directors: Nancy Aitcheson, Patrick Bredehoft
Fire Tricks Consultant: Ellen Field
Lights and Sounds: Kagan Korkmaz
Soundtrack of the Performance
Edit
Baba O'Riley / The Who
Here Comes the Sun / The Beatles
Moondance / Van Morrison
Blame It On the Boogie / Michael Jackson (r.i.p.)