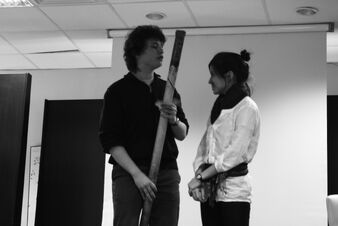 Let's see what happened when Inc'10 recited Hamlet.
O, that this too too solid flesh would melt...Edit
Just a few weeks ago, seniors of TEVITOL performed scenes that they have selected individually or in groups. Each person had to memorize at least 20 lines. They were assessed for their memorization, understanding of their texts, their use of body language and their ability to conduct the message of the text to the audience. Each group or individual was evaluated by his/her classmates.
Most preferred soliloquy was the one that started with "O, that this too too sold flesh would melt" in act 1, scene 2. Most popular group work was the second scene of act two where Hamlet had a dialogue with Polonius—and honestly these scenes were a among the funniest scenes performed. One of the seniors, who used to be a member of the Drama Club, chose a less travelled road, and performed the fifth scene of act four. She succeeded in conducting the madness Ophelia was in with the help of her talent for theatre. Another interesting recitation was a puppet show of act 3, scene three, where king confesses his sin without knowing Hamlet is watching him secretly. And a group did a mash-up from different scenes of the book, so fast and so hilarious that everybody watched breathlessly.
Even if it was for a few hours, seniors had time to relax and be creative. Interestingly there was only a single "to be or not to be" speech. Who said Shakespeare was so hard and not fun at all? All I can report is that next time when seniors remember Hamlet, they will imagine a didgeridoo instead of a pipe (scene3.2) [[[the language in shakespeare's texts|Do you think I am easier to be played on than a pipe?]] ].
Take a look at the photographs to have a better understanding of our fun times!
More Pictures
Edit