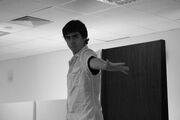 Vatan Kurtaran Saban was the 2008 production of Turkish Drama Club (better known in Istanbul as TEVITOL Sahnesi) and included a part about Shakespeare's magnificent play Hamlet. Murat Ates was starring as the main character "Hamlet" in the scene, (he was actually acting as an actor who was acting like Hamlet) and he was making a revised version of the "To be or not to be" speech—yes, with the skull of Cemre Can Aslamaci (the chief mime of the group) in his hands.
You Shall Laugh
Edit
Patrick Bredehoft (an English teacher who worked at TEVITOL between years 2006 and 2010) held a significant amount of attention in one of the performances with his high-amplitude laughing that occurred while this scene was being performed. It was a point that was further examined and questioned by many of the students since almost all of the humorous existence of thought in the scene required knowing Turkish to an almost native level—and the student body was absolutely sure that the funny dressing of actors wasn't worth that much laughing.
This circumstance points out an important behavior that all students should have while watching English Drama productions too: You shall laugh, no matter what you perceive.