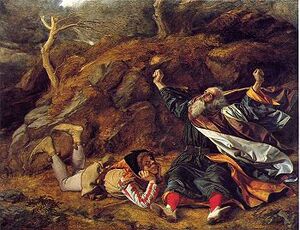 Fool
is the common name of entertainers of Kings in Medieval Ages. Fools are generally smart people with the capability of political jokes in disguise. Their main objective is to entertain the King, whereas they are mostly portrayed as a critics of Kings in
William Shakespeare
's plays.
List of Fools in Shakespeare Plays
Edit
Bottom in A Midsummer Night's Dream
Dogberry in Much Ado About Nothing
Touchstone in As You Like It
The Fool in King Lear
Trinculo in The Tempest
Costard in Love's Labours Lost
Feste in Twelfth Night
Launcelot Gobbo in The Merchant of Venice
Lavache in All's Well That Ends Well
Yorick in Hamlet
A Fool in Timon of Athens
Puck in A Midsummer Night's Dream
Thersites in Troilus and Cressida
Clown in Othello
Dromio of Syracuse and Dromio of Ephesus in The Comedy of Errors
Speed in Two Gentlemen of Verona
Launce in Two Gentlemen of Verona
The Gravediggers in Hamlet
Citizen in Julius Caesar
Pompey in Measure for Measure
Clown in The Winter's Tale
Grumio in The Taming of the Shrew
The Porter in Macbeth
Roles of the Fools
Edit
In Shakespearian plays, fools are generally the ones who are wise and who show the path to the main character, or they are the ones with a symbolic meaning. As it is in King Lear, fool leads King Lear to the right path until tragedic end happens. Also in Hamlet, Yorick's skull has a symbolic meaning for the death theme; showing the importance of the fools in Shakespeare plays.
References
Edit
http://en.wikipedia.org/wiki/Shakespearian_fool#List_of_Shakespearian_fools